Truth in the Tinsel
.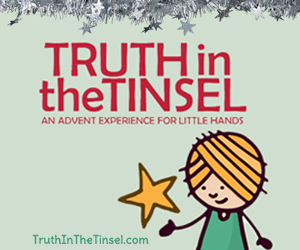 It is a great way to share the Bible story and engage your child while making a super simple ornament keepsake to go along with it. In the past we have hung these using
poster putty
in a Christmas tree shape on the wall, and we have hung them on our Jesse Tree. We are a crafty family, and many of the supplies that were necessary to create the ornaments we already had on hand. But I will admit to having to wrangle up some supplies on occasion. And there were days that I just didn't feel like digging through the craft supplies to find what we needed.
This year I plan to spend the next 32 days assembling advent bags for our Truth in the Tinsel experience. Fortunately all the supplies you will need are listed at the beginning of the book, as well as a break down of what you need for each day! And if you aren't crafty, don't think you can't use this. Oh!Amanda has created this totally awesome printable
ornament package
that you can use instead. It includes templates your child can cut out and color for each day.
And since I will be using it as part of my home school curriculum, I will be making and sharing some free home school resources to go along with this on
Sunflowers at School
, so be sure to bookmark that site.
So why am I sharing this with you now, before we have even raided the kids Halloween candy? (Please tell me we aren't the only ones who do that!!!) Because I only have THIRTY-TWO days until
Truth in the Tinsel
begins! And while the program does include alternate schedules (10 days in which you introduce the characters of the Nativity, A schedule of just the basics that includes 16 ornaments, a 7 day prophecy schedule and more) I really want to complete them all this year. If this sounds like something you might be interested in doing as well, you can
click here to visit ohAmanda.com
and check it out!
Until next time,
Every year we try to make sure our Christmas celebrations center on Christ. In years past we have read the advent story a little at a time every night before Christmas; we have done a Jesse Tree; we have read the Nativity story from different points of view each week. But the one I have enjoyed doing the most has been